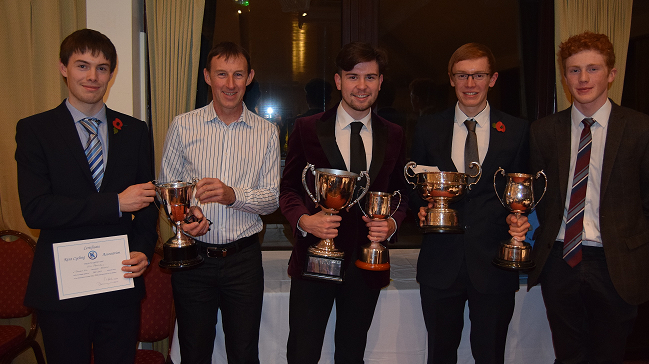 Thanet Road Club were very well represented and rewarded at the Kent Cycling Association annual lunch & prize presentation 2016 on Sunday 7th November at the Weald of Kent Golf Club.
Andy & Deborah McCall, Laurence and Dan Martin, Terry and Jenny Fearn, David Redmond, Colin and Vi Inett, Chris, Nick and Richard Fennell, Ollie Robinson, Simon Henderson, along with second claimers Chris Bax and Malcolm Adams were all on hand to witness many of the top awards come the way of Thanet Road Club.
On behalf of the club we would like to thank Ann Burden and the KCA for a fantastic meal and presentation ceremony 'toast mastered' by Paul Mepham.
Guest of honour and presenting the prizes was Sheila Hardy – Chairperson of the National Council to Cycling Time Trials.
Junior Dan Martin came away with the Junior best all rounder (BAR) and the John Clegg 10 mile junior trophy.
Following a superb season our very own Chris Fennell came away with some key awards including the prestigious short distance BAR, 50 miles trophy and the Roy Enfield trophy.
Chris's BAR speed was an impressive 29.944mph!
How many course record's fell to get that – there have never been so many in one season – Chris is now planning the rest of the Kent course records for next season.
Chris and Simon along with Huck Garrip also picked up the short distance BAR team prize for the club
Andy McCall, Phil Cook, Nicola Goodban, Huck Garrip, Ollie Robinson, Simon Henderson and Nick Fennell were amongst the others who also all came away with individual awards.
The photograph shows Nick, Simon, Dan, Chris and Ollie with some of their spoils!
Courtesy of Richard Fennell
KCA results courtesy of Spinwheels
Post from Simon Henderson