The club 10 this week was dedicated in memory of Pip McVey, who when he passed away earlier this year was our oldest member.
Pip was in his early 90's and was still cycling.
In the past few years as well as riding round and completing in the occasional TT at Betteshanger (BCP) he was a regular attendee at Watt bike training session at Christchurch University in Canterbury with son and fellow member Richard McVey.
We can now always remember him at  'Pips Corner' on the hairpin when riding round Betteshanger.
For Betteshanger we had very good weather this week, a slight breeze and warm conditions.
We had 41 riders from TRC, VC Deal, Deal Tri and GS Invicta lining up for what we plan to be an annual event.
Most were riding in teams and a few solo rides, all times and awards are attached below.
Highlights:
Thanks to all the riders, helpers and spectators who assisted and stayed for the presentations after the event.
Also, special thanks to Richard McVey and Ola Zdzieblowska for providing and presenting all the prizes.
Fastest team overall on the night were the mixed team of Peter Elms (VC Deal) and Peter Hogben (Deal Tri) recording a 21:24 and winning the Pip McVey memorial trophy. Peter Elms is pictured receiving the award from Richard McVey.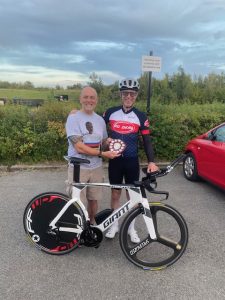 Trevor and Heidi Hammond were the fastest mixed team (24:04) [apologies]
Faye Faiers and Peter Huckstep were the fastest mixed TRC team (25:08)
10 year old Stanley Preston (VC Deal) was the youngest rider (31:22)
Betteshanger regular, 11 year old  Alice Tulett rode in the fastest female team with Jennifer Fearn recording 33:04.
15 year old Matthew Knight (VC Deal) who I believe was doing his first TT finished 2nd overall with Lewis Barnes (VC Deal) recording a very creditable 23:01.
Our regular timekeeper Dave Mastin teamed up with TRC stalwart Paul Kirkness to ride the event on their Brompton bikes (Not sure why, looked like hard work, at least we let them start with their bikes unfolded!)
They did finish closest  to 34:46 (this is time Richard McVey and his Dad, Pip did in their last 10).
Prizes were spread to 1 award per team, as the oldest team overall (139) they finished with a 34:17.
Helpers this week: Terry Fearn, Malcom Adams, Andy McCall, Paul Griffiths, Michael Friend, Ian Ferrell, Caroline Rigby, Simon Henderson,(anyone I forgot).