The annual Jim Braginton 2-up team time trial was run on Easter Monday for the first time in 4 years, due to the Covid 19 lockdowns of recent years preventing it from being held. Conditions were challenging for the riders with rain and a stiff breeze to contend with.
Pictured are Paul Burrows & Mat Lister – (photography Lisa Burrows)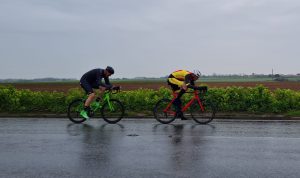 There was a small field of just six teams entered, and one team withdrew beforehand due to illness.  The majority of riders were representing Ashford Wheelers, who had four pairs taking part, while Thanet RC had just one team competing.  It was the Thanet RC pairing of Paul Burrows and Mat Lister on road bikes that took the win with a time of 22.57 for the 9.7 mile course. Second place went to the Ashford Wheelers pair of Owen Fletcher and David Hampton in a time of 24.41, ahead of club mates Matt Clark and Jon Hollidge in third spot with 24.55.
Times as follows:-
1) Paul Burrows & Mat Lister, Thanet RC – 22.56.
2) Owen Fletcher & David Hampton, Ashford Wh. – 24.41.
3) Matt Clark & Jon Hollidge, Ashford Wh. – 24.55.
4) Andy Robinson & Mick Claydon, Ashford Wh. – 25.13.
Martin Fenna & Samuel Robinson, Ashford Wh. – Did not finish, puncture.
A big thank you to the club members who came along and ensured that the event was run safely and effectively.  The group of volunteers was Andy & Chris Burrows, Chris Bax, Pete Huckstep Simon Henderson, Andy McCall, Paul Kirkness and Dave Mastin.