Sun 22nd March – VC Elan Hilly Charing QS/7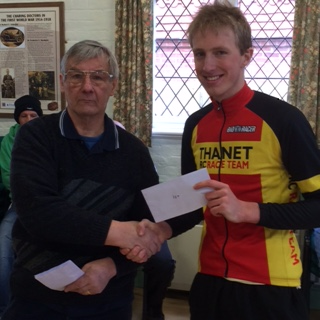 Seb collecting his winnings from event organiser Paul Mepham (VC Elan)
Just 4 TRC riders braves the cool wet conditions this morning to attempt the VC Elan Hilly
The course had reverted to the 2010 format starting at the bottom of Charing Hill , taking in the treacherous decent to Boughton Lees and accent back up Molash before the fast finish back down Charing Hill.
Early conditions were wet with much of the course having wet and dry patches and a keen northerly breeze.
Still recovering from an operation on his shoulder Andy Burrows was first TRC rider off keen to make up for a week off last week, followed by Simon Henderson, Jim Dickson and Seb Dickson who was last man off.
Making up for his two second places Seb was determined to make his mark on the event this year and he decimated the field finishing nearly 4 minutes ahead of the second place rider Mike Piper – well done Seb awesome ride!
Seb missed out on the course record by just 15 seconds…….something for 2016?
Not to be left out Dad Jim and Simon made up the 3 with Seb to take the team prize.
Great to see a presentation again after the event and a rider vote on the course choice for 2016 – looks like we will start at the bottom of Charing Hill!
My interpretation of results board (start order):
Andy Burrows 01:10:16
Simon Henderson 00:55:38
Oliver Dickson DNS (ill)
James Dickson 01:01:49
Seb Dickson 50:15 (can't read my photo – hope this is correct?)
Post from Simon Henderson