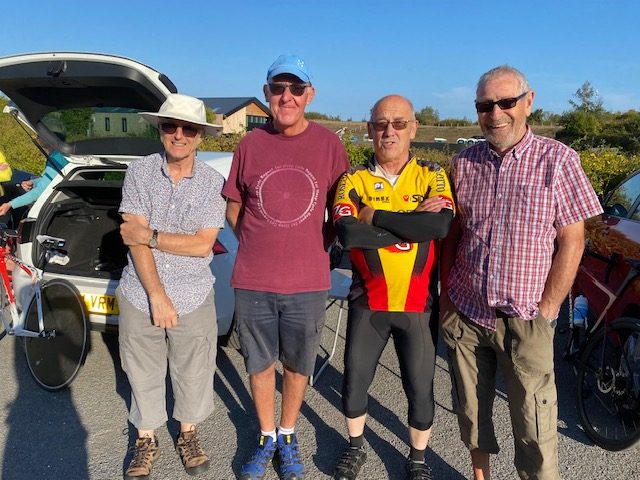 Thanks to everyone who has helped and ridden our events at Betteshanger in 2022. Our 'regular' team, Terry Fearn (start time keeper), Andy McCall (sign on, number spotter), Dave Mastin (finish time keeper, gate keeper, reporter), Malcom Adams (pusher off).
Report from Dave Mastin.
The final evening 10 mile time trial of 2022 at Betteshanger CP was held in warm but blustery conditions . The wind was a strong north easterly, which meant fast speeds down the main straight, but tougher conditions around other parts of the circuit. Consequently, most riders were slower than in the good conditions experienced last week, although Alice Tulett recorded an improvement on last week's PB with 34.37 Twenty six riders took part, of which seven were juniors.
Heading the junior times once again was Dougie Tulett with 24.51, while second place went to the fastest girl rider Ferne Peirce, who recorded a time of 26.36. We wish these two riders the best of luck in the forthcoming GHS national finals.
It was no surprise that Chris Fennell of The Independent Pedaler topped the times of the senior riders with 19.32 A few days earlier, Chris picked up second place at the National 10 mile championship behind a very rapid John Archibald. Second place went to Ollie Robinson with 20.18, somewhat closer to Chris than he was last week. This week's fastest woman rider was Tanya Scott, with a very respectable time of 25.29 on a road bike.
See the attached tables for times of all the riders.
This week's helpers were Annie Newport-Davis, Terry Fearn, Trevor Peirce, Paul Kirkness, Malcolm Adams, Michael Friend, Andy McCall and Dave Mastin.
In summary, I believe the 2022 evening 10's were a success. We were able to run a full programme after the two previous years were somewhat curtailed with Covid, and we only lost one evening due to very windy weather. I would like to thank all the riders and helpers for contributing to the smooth running of the series of events. It would have been nice to see more riders taking part, but time trialling in general seemed to have been less popular this year right across the country.