5 TRC teams entered the increasing popular KCA 3up Team Time Trial.
Go back a few years and event the only attracted a handful of teams
Compare that with 2014: 40 teams, 120 riders and 5 reserve teams.
It was a good morning with the clear blue skies, increasingly warm temperatures and sunshine bringing out many drivers to the 'Ham Street bypass'.
There was a southerly breeze making it quick from Brenzett to Ashford but providing some hard turns for the riders on the return leg.
The TRC teams put in some great times and improvements and we all gathered for tea, cake and photo in the HQ after the event – well all except Gary, Martin and Jason who were still riding (sorry guys!)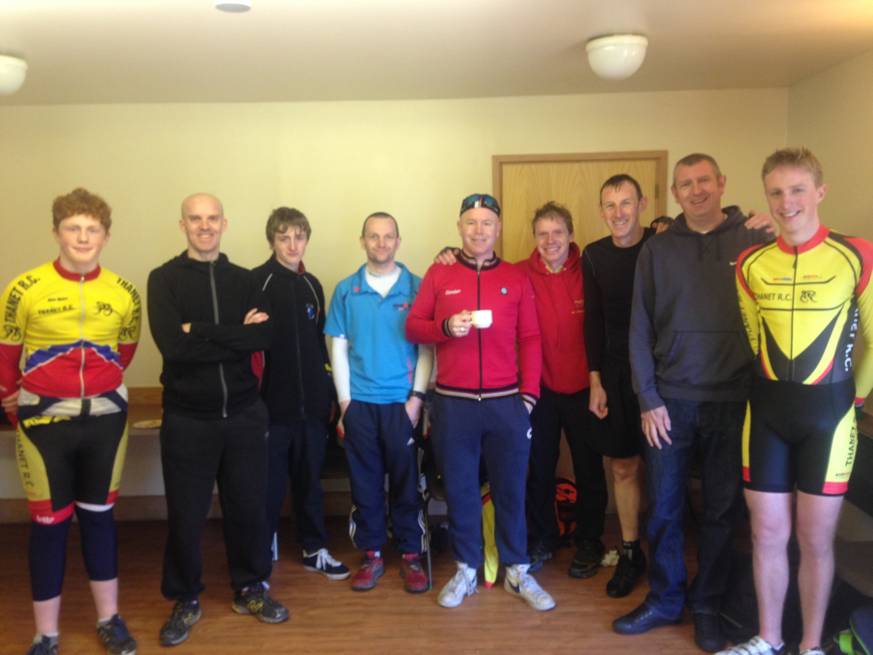 TRC times (start order- my interpretation)
Robert Sissons, Paul Kelk & Scott Oldham 01:07:38
Ollie Robinson, Colin Robinson & Ollie Dickson 01:03:28 (fantastic 9 minute improvement on 2013 – well done boys 2015……….)
Rick Perkins, Rob Milnes & Mark Palmer 00:59:03
Seb Dickson, Simon Henderson & Bill Hawkes 00:55:28 ( 6th overall)
Gary Russell, Martin Russell & Jason Wares 01:02:27
Thanks to Steve Airey at Catford CC and his band of KCA helpers for a great, well organised event- cracking start to the 2014 season
Simon Henderson, Thanet Road Club Time Trial Secretary