TRC have been invited to enter teams for the Kent Cycling Association (KCA) '3up' 25 mile Team Time Trial.
Another opportunity to build on the awards club members have already won in 2023.
Why not  reach out to other club members and form a team of 3 for this prestigious event.
Its taking place on Sunday 7th July 2023 on the Q25/3.
This is  the well surfaced road between Ashford and Brenzett, starting just outside Hamstreet.
There are special awards for 2023 for the club and individual riders combining those riding road bikes and TT bikes.
Further details and on line entry are here:
https://www.cyclingtimetrials.org.uk/race-details/25331
Thanks to Terry Blake at Woolwich Cycling Club  for putting on the event this year.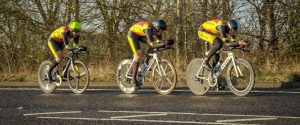 If you need contact details for other members to form a team or information about the event, please get in touch.
Don't forget to let us know how you get on.