The club was well represented at the De Laune CC Fred Peachey Memorial 25 mile time trial held on the Q25/8 Chilham-Canterbury-Ashford course. Conditions were cool and overcast, with a north easterly headwind for the return leg back from Ashford.
There was some success for club riders, with Nic Fennell fastest on scratch with 52.29. Nic's reward for this fine ride is the Fred Peachey Memorial Trophy and the photo below shows Nic receiving the trophy from Val Peachey, wife of event organiser, Tony Peachey. Fred Peachey was Tony's father. Also, the club won the fastest team of three prize, with Nic supported by Simon Henderson and Adrian Hawkins.
Club times in starting order:-
Martin Russell: 1.03.44,
Simon Henderson: 57.50,
Paul Griffiths: 1.14.29,
Paul Kelk; 1.08.28,
Andy Burrows; 1.14.56,
Adrian Hawkins: 57.51,
Andy McCall: 1.12.21,
Dave Mastin: 1.11.34,
Nic Fennell: 52.29,
Chris Bax (2nd claim): 1.03.32,
Paul Kirkness: 1.06.52,
Jenny Fearn: DNS,
Huck Garip: DNS.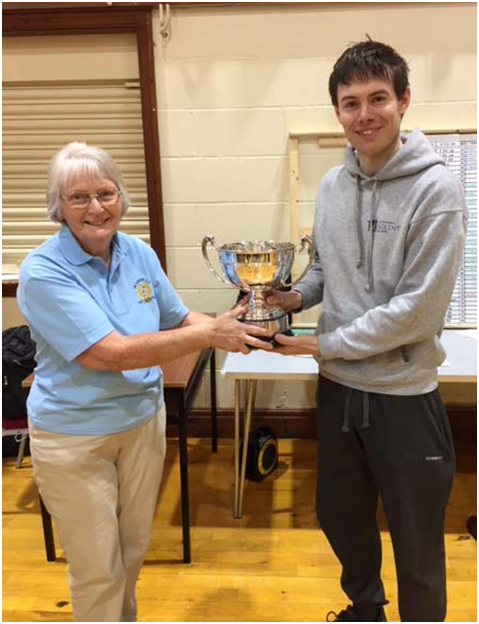 Report by Dave Mastin.