Hill Climb TROPHY-22a
INSCRIPTION ON THE CUP:
THANET ROAD CLUB
PRESIDENTS CUP
PRESENTED BY K.N. HOLYOAK 1953
1953 R. Baynham 1min 45secs Alkham Hill
1954 L. Thick 5mins 19secs Boughton Hill
1955 S. Clements 2mins 17secs St Margarets Bay
1956 S. Clements 2mins 10.6secs St Margarets Bay
1957 J. Clifford 2mins 11.2secs St Margarets Bay
1958 K. Ayers 2mins 11secs
1959 A. King 2mins 3.8secs St Margarets Bay
1960 K. Ayers 2mins 8.4secs St Margarets Bay
1961 Not awarded
1962 C. Davies 2mins 25.4secs St Margarets Bay
1963 G. Chittenden 2mins 18.4secs St Margarets Bay
1964 G. Chittenden 2mins 26.6secs St Margarets Bay
1965 D. Lloyd 2mins 8.6secs St Margarets Bay
1966 Not awarded
1967 Not awarded
1968 Not awarded
1969 Not awarded
1970 Not awarded
1971 Not awarded
1972 L. Maxted 2mins 15.2secs St Margarets Bay
1973 L. Maxted 2mins 23.4secs St Margarets Bay
1974 R. Duxbury 2mins 2.8secs St Margarets Bay
1975 M. Parker 2mins 2.1secs St Margarets Bay
1976 P. Andrews 2mins 10.4secs St Margarets Bay
1977 L. Maxted 2mins 9.4secs
1978 M. Garwood 2mins 6.8secs
1979 C. Briggs 2mins 2.8secs
1980 C. Briggs 2mins 2.4secs
1981 C. Briggs 1min 55secs
1982 R. King 1min 56.9secs
1983 C. Gough 1min 51.4secs
1984 N. McGinley 2mins 3.9secs
1985 N. McGinley 1min 54.93secs
1986 P. Maxwell No details
1987 A. Verral 2mins 9.8secs
1988 P. Edwards 2mins 5secs
1989 A. Speller 2mins 20secs
1990 P. Turner 2mins 16secs
1991 P. Turner 2mins 14secs
1992 I. Edginton 2mins 22secs
1993 C. Briggs 2mins 12secs
1994 T. Woodlock 2mins 25secs
1995 I. Finch 2mins 15.2secs
1996 I. Finch 2mins 24.2secs
1997 I. Edginton 3mins 55.0secs
1998 I. Finch 3mins 36.5secs
1999 P. Burrows
2000 R. Amos
2001 C. Hovenden
2002 P. Burrows
2003 P. Burrows
2004 P. Burrows
2005 P. Burrows
2006 J. Wares
2007 J. Wares
2008 Not awarded
2009 S. Henderson
2010 B. Hawkes
2011 S. Dickson
2012 S. Dickson
2013 J. Oram
2013 J. Oram
2015 Rob Milnes
2016 Not Awarded
2017 Matt Seward 2:34
2018 Matt Seward 2:19
2019 George Pittock 2:35
2020 Paul Burrows 2:39
2021 Matt Seward 2:41
2022 Matt Seward 2:42
Womens Hill Climb-22b
2016 Not Awarded
2017 Jo Smith
2018 Jo Smith 3:09
2019 Faye Faiers 3:44
2020 Sophie Driscoll 3:16
2021 Not Awarded
2022 Jo Smith 3:31
Hill Climb TROPHY - Junior-22c
The fastest time for boy junior/juvenile rider in the Club Hill Climb to be held in October
This trophy is dedicated to Matthew Hill who died at the age of 44 from leukaemia. Matt is the late husband of Helen Hill, TRC Level 3 Coach and Social Secretary since 2016.
Whilst he wasn't a member of Thanet Road Club himself, after he died his youngest son Jack was keen to get involved in road cycling and it was this that led the family to become members.  Matt was always a keen cyclist and shortly before his death bought himself a road bike, prior to this he had always been a mountain biker.
He loved cycling and he loved his home village of St Margaret's Bay and it was for this reason that Helen thought it would be appropriate to name the club Junior Hill Climb trophy after him.  The family continues to cycle in his memory, raising over £20,000 for the Bloodwise charity (previously leukaemia and lymphoma research).  Both Jack and Luke race at club and regional level with TRC's Youth Development Squad.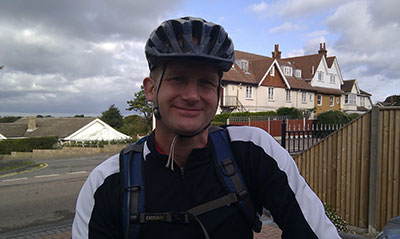 2015 Dan Martin
2016 Not Awarded
2017 George Pittock
2018 George Pittock 2:30
2019 George Pittock 2:35
2020 Not Awarded
2021 Harrison King 5:27
2022 Douglas Tullett 3:08
Hill Climb TROPHY - Junior Women-22d
2017 Not Awarded
2018 Not Awarded
2019 Not Awarded
2020 Not Awarded
2021 Not Awarded
2022 Ferne Peirce 03:36