Bert Spickett Shield-26a
INSCRIPTION ON THE CUP:
THANET ROAD CLUB
BERT SPICKETT MEMORIAL SHIELD
HANDICAP EVENING 10
PRESENTED 2002
Awarded to the club rider with the best handicap performance in the last evening 10 mile event in June.
Bert Spickett was born on 30 December 1913 in the cottages next to The Rising Sun in Stourmouth. His worked on and eventually took over his father's farm, Sherrys Farm in Stourmouth. He lived on the farm until he moved to Fordwich in 1998.
Bert was a keen cyclist, first with the Canterbury Cycling Club and then with the Margate Cycling Club in the mid-thirties. The second world war and two children disrupted his riding and it was not until the late seventies, when he was 65, that he returned to the saddle with Thanet Road Club. He always encouraged younger riders, especially his son Martin and grandsons Nick and Matthew, often riding two-ups with Nick. In the Ashford Wheelers' Grand Prix de Gentlemen of 1991 there were three generations of Spicketts: Bert, his son Martin, Martin's son Matthew and Bert's other Grandson, Nick.
He held the post of Club President and rode regularly, still competing in his early eighties, until being hit by a car in the GS Invicta 10 on the Thanet Way. He was not badly hurt, but retreated to the quieter lanes.
Bert passed away on 22 April 2002.
2002 C. Hovenden 20m 23s (25.03)
2003 P. Burrows 17m 49s (22.06)
2004 P. Burrows 17m 29s (22.05)
2005 C. Robinson 16m 11s (24.55)
2006 Frank Hyde 15.33
2007 Andy Girling 18m 16s (24.31)
2008 P. McVey 31m 07s (16.25)
2009 C. Robinson 18m 02s (26.07)
2010 S. Robertson 16m 53s (26.39)
2011 S. Robertson 17m 25s (25.13)
2012 S. Robertson 16m 29s
2013 R. Edmondson 15m 07s
2014 M. Robinson 12:42
2015 J. Wares 17:31
2016 Scott Meeks, Mike Kirkness, Nic Fennell
2017 Shawn Manning
2018 Scott Wiseman
2019 Shawn Manning 18:03
2020 Not Awarded
2021 Paul Reid
2022 Matthew Hall 17:36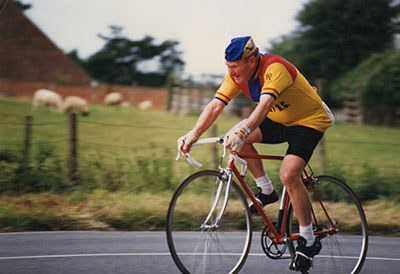 Bert Spickett Shield - Junior / Juvenile-26b
2019 Catherine Morrell 18:52
2020 Not Awarded
2021 Harriet Butcher 16:21
2022 Ferne Peirce