George Pittock (U16) bounced back from a short but debilitating illness earlier in the week to ride a very good race at Welwyn Garden City on Sunday.
The Welwyn Petit Tour, in its third year, includes eight hours of closed road town centre criterium racing across all ages and categories plus a "cycling village" with activities throughout the day creating a festival atmosphere.
The riders were all together with George towards the back of a high quality field until 2016 U14 national champion Oliver Stockwell and club mate Joseph Bennett (both Welwyn Wheelers CC) crashed on the eighth of 26 laps. Aaron Freeman (Chelmer CC) and Max Bolton (Lee Valley Youth CC) benefitted from the crash and opened up a lead which spilt the riders into several groups.
George rode in 12th place at the front of the third group with familiar rivals Harrison Mayo (Barking & Dagenham CC) and Oliver Partner (Colchester Rovers CC), but none were prepared to work so George left them behind and slowly moved through the field reaching eighth place by the half way point.
The leaders were brought back as two became four and then six and an exciting race developed at the front. George unfortunately found himself on his own, with little chance of catching seventh placed Sam Bardill (CC Hackney) or of being caught himself.
A close finish saw Sam Asker (VC Londres) sprint to victory ahead of Freeman in second and Jamie Dene (Welwyn Wheelers CC) third. George finished a very creditable eighth and headed for home satisfied with a good performance in a tough race and also with getting back to full fitness.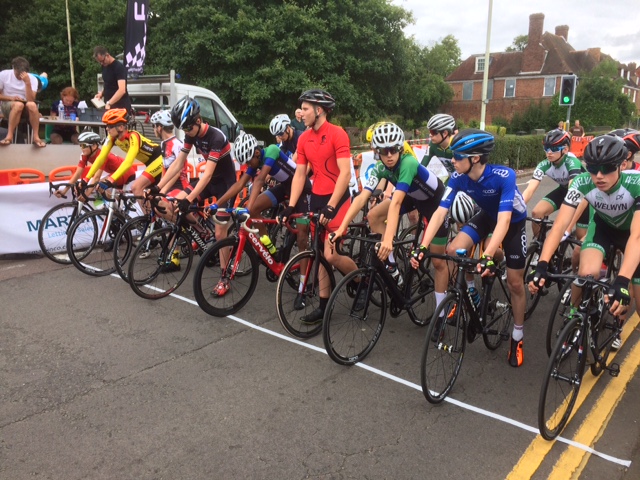 Also many congratulations to Thanet RC riders Lance Childs, George Pittock and Jack Hill for being selected to ride in the Ride London Grand Prix races next Friday for the region. Well deserved for great seasons boys.
Post by Colin Robinson.